The Microsoft Dynamics 365 Business Central Commission Management solution
Are you spending a lot of time to calculate Commissions?
Are you selling products, services, or anything else and pay commissions to your salespeople or other employees or third party companies? Are you required to pay royalties to third parties? Are you spending a lot of time every month on commission management and calculate the commissions you have to pay to your salespeople?
How do you calculate your commissions today? Do you pay commissions based on Gross Profit? Sales Revenue? Do you have multiple sales people that could receive commissions for one sale? Do you have different commission rates for different item categories, different items, different customers, different rates per salesperson? Do you pay royalties based on quantities sold?
If you are currently calculating commissions and are spending more than one hour a month on this, we have you covered with our solution fully integrated into Microsoft Dynamics 365 Business Central.
Introducing NAV-X Commission Management: the Microsoft Dynamics 365 Business Central Commission Management solution for the modern business.
Easy
In just a few minutes, you can setup your app and start taking advantage of the automatic calculation of commission payments for your salespeople.
Different Calculations
You can calculate commissions by Sales, Gross Profit, or even Quantity sold. Therefore, you can also track Royalties in addition of your commissions. Both are tracked instantly, once your transactions are entered
Flexible
We support a variety of different calculation methods and allow manual adjustments to the calculated commissions.
Easy Payment
Once your commission payments are due, we enable you to pay external salespeople through your normal A/P payment process. Internal salespeople can be paid through your normal employee payment process.
Fully Integrated
Commissions are automatically calculated when your transactions are processed and reports are available at a moments notice.
Detailed Setup
Commission rates can be defined by customer groups, customers, item groups, items, as well as resource groups, resources, and G/L Accounts. You can make individual records commissionable and turn it off for others.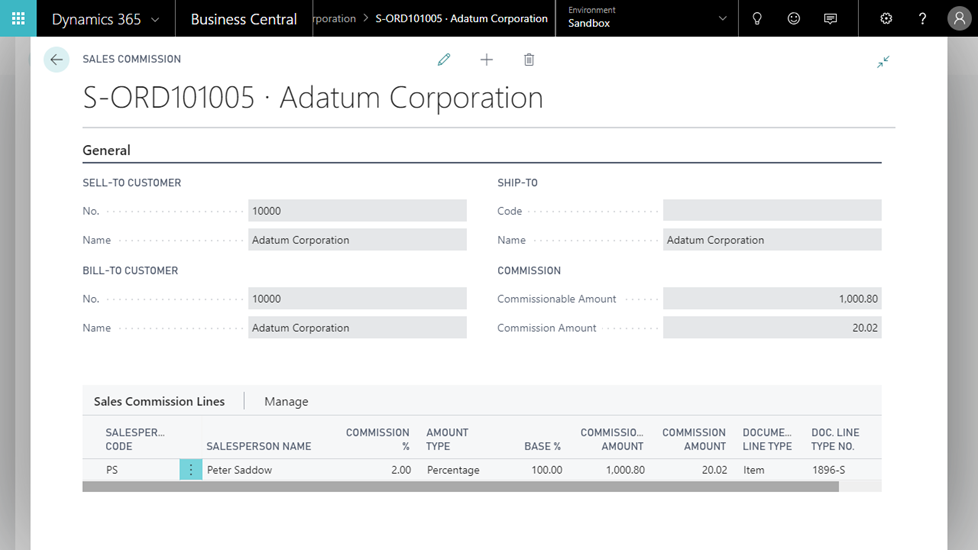 Always informed
With the proper permissions, you can analyze every single transaction before or after posting for commission impacts. Do you need to make changes or give another salesperson also commissions? Just change the commissions right then and there.
As a salesperson, you can easily review the commissions you will be receiving at any time. But don't worry, none of the other salespeople will see the amount of commissions you are receiving.
Multiple Salespeople per Transaction
Standard Business Central only allows one salesperson defined on the customer or a sales document.
NAV-X Commission Management adds the ability to have an unlimited amount of salespeople defined per customer or ship-to and those can be overridden per  sales document. You can even define different split percentages, if you want to only give partial credit for a sale to a specific salesperson
Commission Rates
You can define different commission rates for combinations of customer groups, customers, ship-to addresses, item categories, items, resource groups, resources, G/L accounts, or Item Charges.
Those rates can defined for one salesperson or for a group of sales people and can vary based on sales amount, gross profit, or even by date.
Automated Commission Payments
Commissions can be paid automatically to the salespeople through different processes.
If your salespeople are employees, you can easily pay them through integrated payroll systems. If your salespeople are independents, you can pay them directly through your normal A/P Payment process.
Are you using a non integrated payroll system? We can work with that as well.
Tiered Commissions
In addition to the basic commission rates, you can also define tiered commission levels that define different commission rates based on the performance of the individual salesperson. You can define different commissions based on total sales for a period or the growth of sales month over month.
SALES MANAGERS
You can define sales managers and associate a team to each of the managers. All sales from this team is associated with the individual sales manager.
You can setup commissions for sales managers to pay a certain percentage of the team's total sales.
Do you pay bonuses to your managers instead of a commission? You can also define fixed bonuses for your managers based on the overall performance of the team.
Product Managers
Are you paying commissions for your product managers based on company wide sales? Or do you pay bonuses for your marketing team?
NAV-X Commission Management allows you to define "Generic Commissions". This means that you can define commission rates for salespeople for specific items or item categories and the commission is paid, even if the salesperson is not assigned to the sale.
Flexible Salesperson Assignment
You can define rules that assign salespeople to a sales transaction using any field that is available on the sales document – including Dimensions!
It is even possible to have different salespeople per sales line.
Multiple Commissions and bonuses
If you have a complex commission structure or pay bonuses per quarter or year on top of regular sales commissions, we got you covered.
You can define different commission types that can be used to pay out an unlimited number of different commissions.
Commissions on billable time
Service companies often pay commissions based on the time an employee bills. You can define different commission rates based on the percentage billable the individual employee reached in a certain period and also pay additional bonuses or other incentives.
Initial Commissions
If you want to incentivize your salespeople to onboard new customers, you can define commissions that are paid only for new customers for an initial time period. For instance, you can pay an extra commission for the first year starting with the first invoice posted.
Commissions based on Journals
Some companies use different systems – typically specific for an industry – for billing and other tasks, but then import all transactions into the General Ledger.
You can define rules to calculate commissions based on these imported journal entries and still pay your salespeople.
Commission Draw
You can guarantee a certain commission payment to your salespeople per month or any other period. If the actual commission exceeds the guaranteed payment, additional commissions are paid out to the salesperson.
Learn more about our state of the art commission management solution